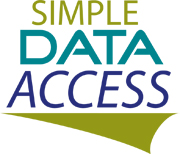 Simple Data Access (SDA) is a Smart Electronic Filing and Document Management Solution.
It is single Software with every Module and Feature included in one Package.
Instead of charging our customers with one Base System, and then ask them to buy extra modules, we simply have added all the features and modules in one package with the price of the Base system!
SDA:
• Organizes and stores all your computer-generated and paper documents; Including: Documents, Music Files, Video, X-Ray and more
• Provides fast access and unlimited storage!
• Contains built-in, easy to use scanning capabilities
• Offers multi-user access in one office or in multiple locations across the globe
• Runs with your current computer system – no additional hardware needed
• Requires minimal time to learn the entire system
• Is user-friendly because it utilizes a common sense approach
• Gives remote access to all your documents via the internet or VPN
• Tracks all user activities for easy monitoring (Audit Trail)
• Is the professional, secure, dependable, and affordable software solution